Agile Manifesto Poster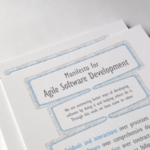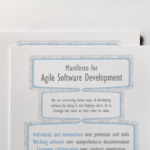 What's hanging over your desk? A kitten clinging to a tree branch? How quaint. Here's what I've got.
---
Manifesto for Agile Software Development
We are uncovering better ways of developing software by doing it and helping others do it. Through this work we have come to value:
Individuals and interactions over processes and tools
Working software over comprehensive documentation
Customer collaboration over contract negotiation
Responding to change over following a plan
That is, while there is value in the items on the right, we value the items on the left more.
---
The poster is 18″ x 24", printed on glossy 90lb poster paper. These posters are unbranded, with only AgileManifesto.org printed on them, so they make great gifts for clients, stakeholders, and teams.
| | |
| --- | --- |
| Weight | 0.4375 lbs |
| Dimensions | 25.5 × 2.5 × 2.5 in |
Reviews
No reviews yet. Be the first to review Agile Manifesto Poster
Other Tools & Toys