Agile Manifesto Posters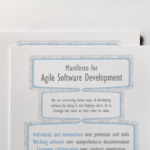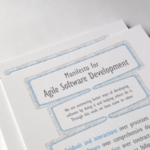 What's hanging over your desk? A kitten clinging to a tree branch? How quaint. Here's what I've got:
Manifesto for Agile Software Development
The 12 Principles of Agile Software Development
Download both 8.5" x 11" posters as PDFs and print up as many as you like.
Larger, 18" x 24" physical versions of these same posters are also available for sale.
Reviews
No reviews yet. Be the first to review Agile Manifesto Posters
Other Tools & Toys